About HAZWOPER OSHA Training
At HAZWOPER OSHA, we are renowned for our expertise in safety and compliance training. Our success stems from our commitment to understanding and meeting the unique learning needs of our students and community. With a thorough understanding of Federal, State, and local regulations, we equip our partners with the knowledge and skills needed to establish and maintain safe workplaces. Our focus is on developing workplace safety programs that raise hazard awareness and enhance worker health and safety.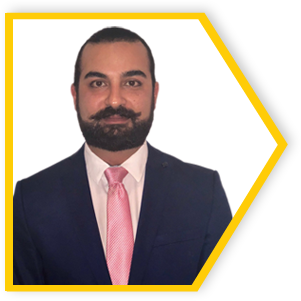 Arvin Amiran
Chief Executive Officer
Arvin holds a Bachelor of Science degree in Biochemistry and a Master's in Biotechnology. Over the last 15 years, he has held many leadership positions in various manufacturing and industrial organizations, and specializes in safety, quality, and compliance.

Mr. Amiran believes that "safety isn't expensive; it's priceless." He tirelessly advocates for workplace safety to remain at the core of each organization and a priority for leaders, regardless of the size and scale of the company. His extensive knowledge of State and Federal safety laws, OSHA, EPA, RCRA, MSHA, CHP & DOT, and hazardous materials regulations has enabled him to repeatedly implement safety programs of the highest caliber in multiple work environments, and he hopes that other companies will take advantage of HAZWOPER OSHA Training LLC to augment the level of their own workplace programs and protect the priceless safety of each and every employee.