The 6 Categories of Workplace Hazards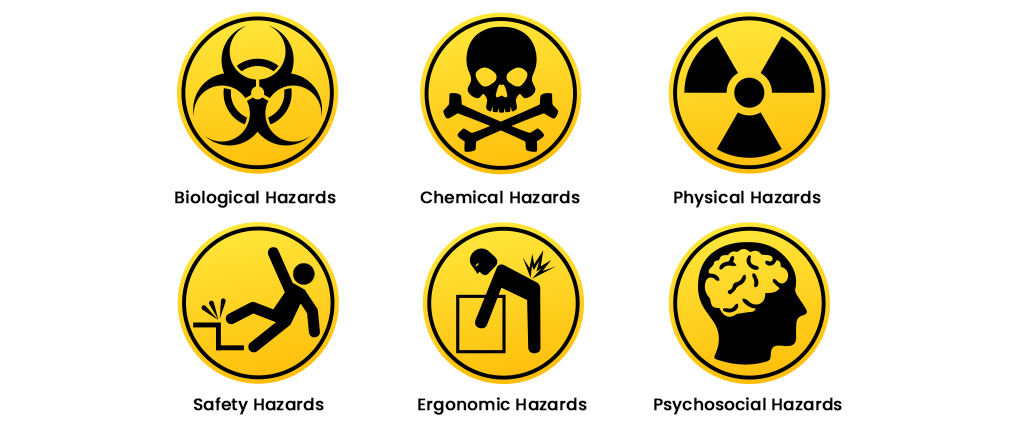 All workplaces from office complexes, construction sites, factory floors, and hospitals, to research and development laboratories, can endanger the safety and health of employees. These dangers can range from small injuries, and accidents with complex health effects on workers, to fatalities. But how can one know what types of hazards exist in workplaces? This is where proper assessment and analysis of the worksite including the evaluation of job tasks benefits both employers and employees. It is the underlying reason for OSHA to advocate industrial hygiene at workplaces and specify undertaking extensive job hazard analysis at hazardous worksites.
What is Job Hazard Analysis?

According to OSHA's publication on Job Hazard Analysis:

A job hazard analysis is a technique that focuses on job tasks as a way to identify hazards before they occur. It focuses on the relationship between the worker, the task, the tools, and the work environment. Ideally, after you identify uncontrolled hazards, you will take steps to eliminate or reduce them to an acceptable risk level.
To ensure effective job hazard analysis, and to carry out the work of an industrial hygienist, it is important to understand the different types of hazards that exist and can occur in a workplace. This article will focus on the six broad classifications of hazards found across different industries and worksites.
Who is an Industrial Hygienist?

According to OSHA's Informational Booklet on Industrial Hygiene:

Industrial hygienists, or IHs, are trained to anticipate, recognize, evaluate, and recommend controls for environmental and physical hazards that can affect the health and well-being of workers. Industrial hygienists also play a major role in developing and issuing OSHA standards to protect workers from health hazards associated with toxic chemicals, biological hazards, and harmful physical agents. Thus, the two roles of the OSHA industrial hygienist are to spot those conditions and help eliminate or control them through appropriate measures (1998, Revised).
Biological Hazards
Bacteria | Viruses | Fungi | Mold | Bloodborne Pathogens | Bird Droppings | Infectious Animals | Hazardous Waste
Biological hazards are caused by living organisms that produce hazardous substances that can enter the human body either by breathing, touching, ingesting, or injection. These hazards can cause acute and chronic infections in individuals who are exposed to them. Often, working with infectious plants, animals, or bloodborne pathogens can lead to worker exposure to biological hazards. This is also true for individuals who are exposed to people who are ill or carrying an infection. The past outbreak of the COVID-19 pandemic and the current spread of the Monkeypox virus are practical examples of biological hazards that any one of us can easily relate to.
Occupational Exposure
Hospital workers, medical workers, and laboratory personnel are exposed to biological hazards, especially in the form of bloodborne pathogens.
People working with animals such as those employed in veterinary clinics.
Personnel employed in laboratories and research and development units can be exposed to biological hazards.
People working in food processing and dealing with raw food are also exposed to biological hazards.
Individuals working outdoors or in natural environments.
Chemical Hazards
Chemical Toxic Substances
Chemical hazards are caused by exposure to toxic chemical substances in the form of solids, liquids, gases, fumes, vapors, mists, and dusts. Workers can be exposed to chemical hazards by direct contact with skin also known as absorption, through inhalation, and either by accidentally eating or drinking a toxic substance or chemical. Chemical hazards can cause severe health-related issues and can be detrimental to the long-term physical health of people. Common types of illnesses that result from chemical exposure are skin irritation, respiratory illnesses, and blindness. Chemical hazards also can cause corrosion and explosions at worksites leading to property damage and endangering the safety of workers.
Occupational Exposure
Employees working in and around solvents, toxic chemicals, or flammable gases.
Workers employed in cleaning facilities and job functions.
Lab workers who use dangerous chemicals as part of their work processes.
Engineers and field workers who work in and around dangerous chemicals or other hazardous substances.
Hazardous waste operation employees.
Employees in chemical manufacturing operations.
Workers in the oil and gas industry and coal mining operations.
Workers involved in hazardous chemical/substance spill cleanups.
Emergency and medical personnel.
Physical Hazards
Noise | Heat Stress | Cold Stress | Radiation
Hazards that cause a physical injury to a worker due to the workplace environment having excessive levels of ionizing and nonionizing electromagnetic radiation, noise, vibration, illumination, and temperature are known as physical hazards. For instance, exposure to loud noise for extended periods can lead to loss of hearing. Working for extended periods under the sun can lead to heat exhaustion and heatstroke while working for long hours in the cold can lead to hypothermia if not properly attired.
Occupational Exposure
Workers carrying out job tasks in noisy surroundings.
Medical personnel working in the Radiology department in hospitals and clinics.
Individuals working outdoors in the hot sun or during winter for long periods.
Personnel employed in smelting operations, steel mills, mining operations, etc.
Workers working on open to air construction sites.
Safety Hazards
Falls | Trips | Slips | Falling Objects | Shocks | Electrocution
Safety hazards occur due to unexpected circumstances and avoidable circumstances. The danger to workers from safety hazards can vary and either be negligible such as a small cut, a little more serious such as a broken hand, or can be serious with long term repercussions such as a spine injury, and even cause death. According to the U.S. Bureau of Labor Statistics, the construction industry recorded 1,102 fatal injuries in 2019, 418 of which were from falls, slips, and trips.
Occupational Exposure
Construction industry workers.
Personnel working in the utility sector.
Workers working at heights such as window cleaners on scaffolding.
Service and maintenance personnel.
Personnel working with heavy equipment or machinery.
Ergonomic Hazards
Musculoskeletal Injuries
Ergonomics is the science of researching and evaluating various tasks in the workplace (such as lifting, holding, sitting, pushing, walking, and reaching) that can cause discomfort or injury to the human body. Thus, ergonomic hazards are mainly musculoskeletal injuries that occur due to bad sitting posture, repetitive awkward movements, frequent lifting, extreme temperature, bad lighting, and work stress. Ergonomic injuries also can occur due to poorly set-up workstations in offices, badly designed chairs, and incorrect height of office tables. Maintaining efficiency and comfort in the workplace can minimize ergonomic hazards.
Occupational Exposure
All people in the labor force! Although today, office workers are prone to greater exposure to ergonomics hazards than any other individuals.
Psychosocial Hazards
Mental Health or Well-Being
Psychosocial hazards can occur due to the workplace environment or work stress. Workplaces, where there is discrimination, harassment, victimization, or a generally negative perception by employees, can lead to such hazards. Being overworked or not having downtime, being overly stressed about work or even peers can lead to depression, anxiety, and low morale, resulting in deteriorating the mental health and well-being of workers.
Occupational Exposure
All people in the labor force!
Identifying Hazards Exposure for Specific Occupations and Workplaces
Employers and employees must be able to identify and implement appropriate workplace safety measures in line with the Hierarchy of Controls that gives a step-by-step approach to eliminating or reducing workplace risks. All our online, in-person, and instructor-led virtual training courses consider these aspects. Choose a safety training course that best fits your occupation and satisfies OSHA, EPA, or DOT regulatory requirements, and enroll now!
References:
Bureau of Labor Statistics, U.S. Department of Labor. (2021, May 06). The Economics Daily. Fatal and nonfatal falls, slips, and trips in the construction industry. Website. https://www.bls.gov/opub/ted/2021/fatal-and-nonfatal-falls-slips-and-trips-in-the-construction-industry.htm
U.S. Department of Labor, Occupational Safety and Health Administration (OSHA). (1998, Revised). OSHA Information Booklet #3143 -- Industrial Hygiene. Website. https://www.osha.gov/publications/OSHA3143
U.S. Department of Labor, Occupational Safety and Health Administration (OSHA). (2022, Revised). OSHA Publication #3071 -- Job Hazard Analysis. Website. https://www.osha.gov/sites/default/files/publications/osha3071.pdf