HAZWOPER Training Levels – Know The Basics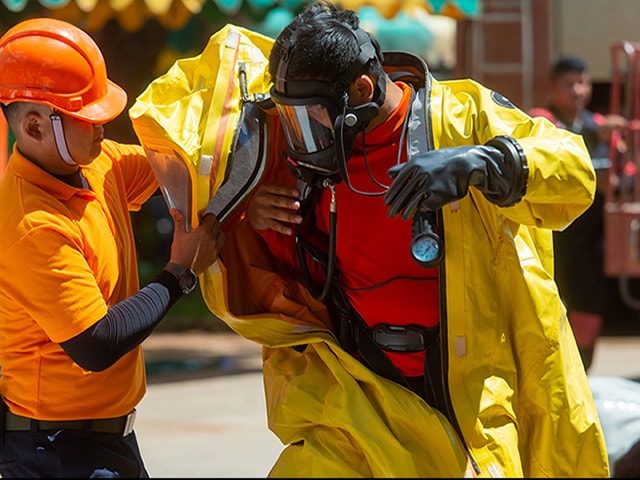 If you are planning to take up a job that could potentially expose you to hazardous substances, then under the OSHA general industry standard 29 CFR 1910.120 and the construction industry standard 29 CFR 1926.65 you need to successfully complete the HAZWOPER training before entering such a work site.
However, it is not sufficient to simply receive HAZWOPER training. This is because there are several different types of HAZWOPER training required, each of which is tailored to the specific job tasks the workers will perform. Therefore, before you receive HAZWOPER training, you must know the basics to be to decide which level of training is appropriate for you.
However, before we dive into explaining the HAZWOPER training levels, let us first understand what HAZWOPER means.
What is HAZWOPER?

HAZWOPER, which stands for Hazardous Waste Operations and Emergency Response is a set of standards that have been created by the Occupational Safety and Health Administration (OSHA) to provide safety and health guidelines that employers should follow to protect employees working in HAZWOPER operations in the U.S. and its territories. The regulations recommend protocols, procedures, and safeguards for workers involved in hazardous waste operations that deal with a range of hazardous materials; and emergency situations arising from the unexpected release of hazardous substances due to workplace operational failures or natural disasters and even the intentional release of hazardous materials to create havoc in society.
Through the enactment of this HAZWOPER standard, OSHA aims to at the very least minimize, or at its most effective, prevent the possibility of worker injury and illness caused due to the potential exposures to hazardous substances.
The HAZWOPER standards not only provide plenty of information on safeguarding workers but also regulates the training requirement that employers must provide their workers. Hence, it is important to understand the different levels of HAZWOPER training to ensure that the correct training is provided to workers.
HAZWOPER Training Levels
Within the HAZWOPER standard, there are broadly defined areas of training identified under three different sections of the HAZWOPER regulation. These are Section (e), Section (p), and Section (q). The HAZWOPER standard has a total of 18 HAZWOPER training courses, out of which nine training programs are the initial HAZWOPER training levels. The balance eight training programs fulfill refresher training requirements, while the 16-hour HAWOPER training is an upgrade course under Section (e).
To better understand the differences between the different levels of HAZWOPER training requirements, let us diagrammatically review the three sections of the HAZWOPER standard that regulates the specific training requirements for HAZWOPER workers doing diverse job tasks.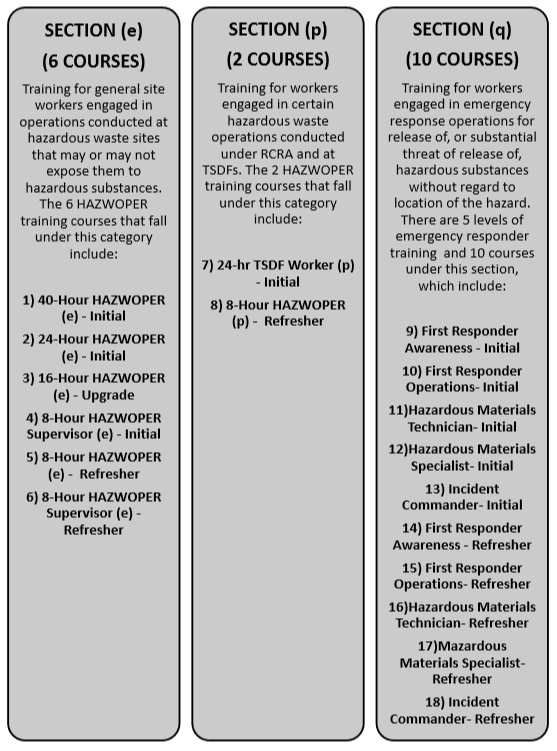 With so many different types of HAZWOPER training requirements, employers and employees may have a hard time determining the appropriate level of required training. Employers and workers may also have difficulty in understanding the type of HAZWOPER training to take—initial, upgrade, or a refresher course. OSHA in Appendix E of the HAZWOPER regulation provides a detailed description of the training curriculum guidelines for each of the 18 HAZWOPER training levels Here are OSHA-provided FAQs to further clarify your understanding and need for HAZWOPER training.
Enroll for a HAZWOPER Online Training Course Today!
We provide a total of seven HAZWOPER training courses under section (e) and section (p).
These training courses are presented using the innovative HAZWOPER media player (OSHA accepted) ensuring students stay engaged, are challenged, and obtain adequate knowledge. Even more impressive, are the myriad training formats used – from examples for easy understanding, case studies to showcase the importance of undergoing regular HAZWOPER training, and visual media to impress on important aspects of the HAZWOPER training.
Enroll for your preferred training today!
HAZWOPER (e) Series (5 Courses)
HAZWOPER (p) Series (2 Courses)
24 Hour HAZWOPER – RCRA TSD Operations Training - Learn more
8 Hour HAZWOPER Annual Refresher – RCRA TSD Operations Training - Learn more