Occupational Exposure to Hazardous Substances: UN Expert Presents 15 Principles to End Worker Exploitation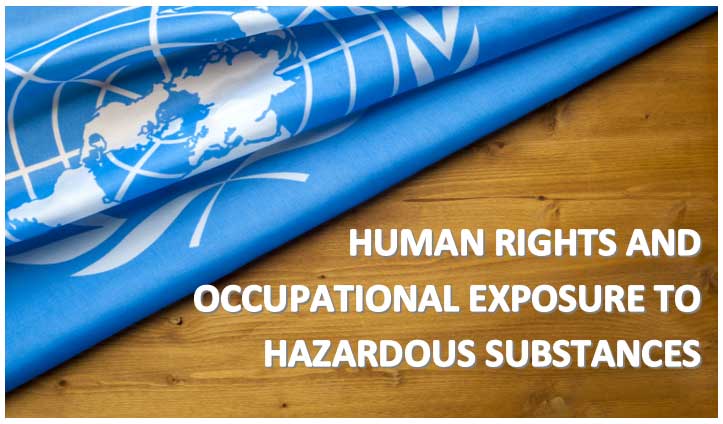 Geneva, Switzerland - The UN Special Rapporteur on hazardous substances and wastes, Baskut Tuncak, has presented a report containing 15 principles, whereby he has urged governments, businesses, and others to protect workers from exposure to toxic substances in their workplace and provide effective solutions for violations of their rights.
"Millions of workers continue to be forced to make the abhorrent choice between their health and their income, and millions more are poisoned without their knowledge or consent," Tuncak said in a September 9 press release. He also emphasized that risk assessments of exposure to toxic substances are often based on incomplete knowledge or false assumptions, resulting in misleading assurances of safety and widespread impact on workers' health.
According to the International Labor Organization (ILO), more than 2.7 million workers around the world die from unsafe or unhealthy working conditions each year. Over 80% of the deaths are from occupational diseases. Globally 1,000 people are estimated to die every day from occupational accidents and a further 6,500 from work-related diseases. Work is crucial to the way we sustain our lives; it lifts people out of poverty and gives many a sense of identity and purpose. However, at the same time, it can also be dangerous and unhealthy if health and safety risks are not managed appropriately.
The following are the 15 principles presented by Tuncak:
Everyone must be protected from exposure to toxic substances at work.
States have a duty to protect the human rights of workers through the prevention of exposure to toxic substances.
Business enterprises have a responsibility to prevent occupational exposures to toxic substances.
Hazard elimination is paramount in preventing occupational exposures.
Duties and responsibilities to prevent the exposure of workers to toxic substances extend beyond borders.
States must prevent third parties from distorting scientific evidence or manipulating processes to perpetuate exposure.
Protecting workers from exposure to toxic substances protects their families, their communities, and the environment.
Every worker has the right to know, including to know their rights.
Health and safety information about toxic substances must never be confidential.
The right to safe and healthy work is inseparable from freedom of association, the right to organize, and the right to collective bargaining.
Workers, representatives of workers, whistleblowers, and rights defenders must all be protected from intimidation, threats, and other forms of reprisals.
Workers, their families, and their communities must have immediate access to an appropriate and effective remedy, which should be available from the time of exposure.
Workers or their families should not bear the burden of proving the cause of their illness or disability to access an effective remedy.
Depriving workers of their right to a safe and healthy workplace should be a crime.
States should ensure accountability for cross-border cases of workers harmed by occupational exposure.