Types of Scaffolds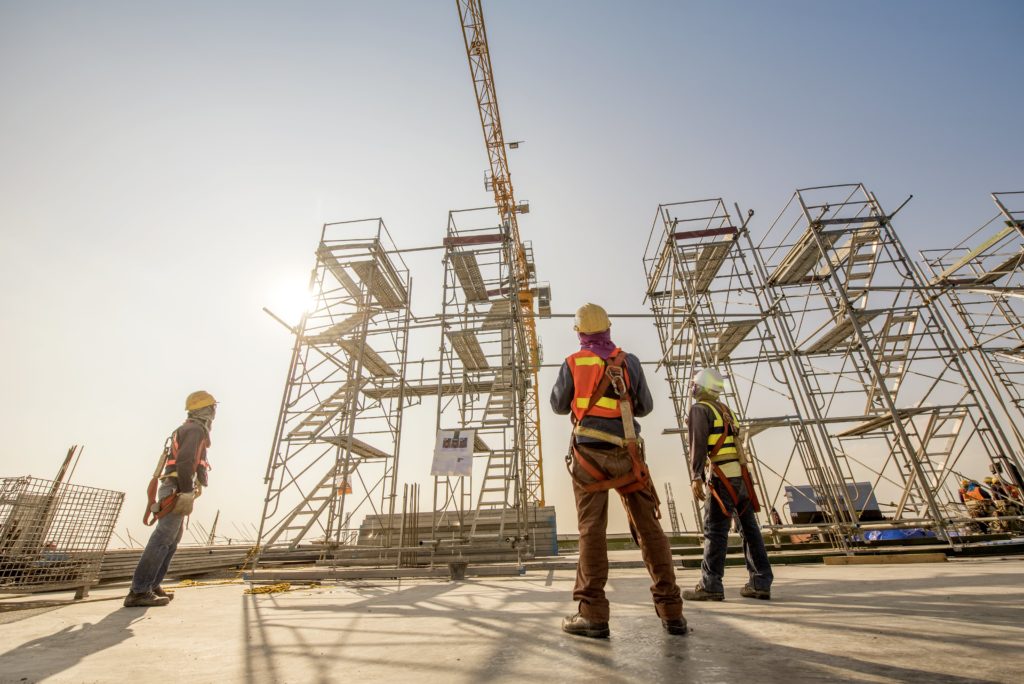 What is a Scaffold?
Scaffolds are temporary structures built to help reach work areas that are well above ground level. Scaffolds can also be constructed as access platforms. According to the Occupational Health and Safety Administration (OSHA); a scaffold is "an elevated, temporary work platform" (n.d).
There are two major categories of scaffolds as explained below.
Suspended Scaffolds – these are platforms that are hung from a permanent solid structure such as a roof and are supported by the use of strong rope, wire, or other similar flexible materials.
Supported Scaffolds – these are platforms that are built with strong rigid ground supports such as brackets, poles, posts, legs, frames, outriggers, etc. These types of scaffolds can hold substantial weight. However, when designed and built, it important to ensure the structural supports are braced to avoid tilting, wobbling, or other movements.
Modern times have revolutionized and added to the types of supported scaffolds. Thus, specialized equipment such as aerial lifts and scissor lifts are now considered to be types of supported scaffolds.
Most of us have seen supported scaffolds in use, as these are commonly utilized by the construction industry to reach very high work areas and beyond the reach of construction workers standing at ground level. And, with the numerous high-rise buildings around, the sighting of the two-point suspended scaffold is not an unusual occurrence. Think of the window cleaner, or those workers cleaning the exterior of high-rise towers and buildings in any part of the world!
What is Scaffolding?
Isn't a scaffold and scaffolding the same? Yes, it is often used interchangeably and as befitting the context requirements of a sentence. However, scaffolding also refers to the different parts such as platforms, poles, ropes, wires, ties, guys, connectors, etc.; that are put together to make a scaffold. Hence, when we speak of scaffolding, it can also mean all the components of a scaffold.
Scaffolding Safety
People who work at heights will often talk about and hear about scaffolding safety. This is because OSHA has developed regulations and recommendations that employers (who expect employees to work on scaffolds) must follow. The aim is to provide detailed guidance on the safe and secure use of scaffolds to minimize the hazards associated with scaffold use. It must also be noted that the regulations aim to protect the safety and health of employees involved in erecting, disassembling, moving, operating, repairing, maintaining, or inspecting scaffolds.
The major hazards associated with scaffolds are falling, being struck by, electrocution, and scaffold collapse. Using guardrail systems, toe boards, fall arrest systems, ensuring scaffolds used are designed and build according to specifications, using recommended lumber and other platform materials, ensuring to maintain load capacity limits, undertaking regular inspections, and adopting other recommended safety measures will aid in protecting workers who use scaffolds to complete their work tasks, especially in the construction industry.
However, the subject of scaffolding hazards and safety measures to be adopted is a topic for another article. The rest of this article will focus on the different types of suspended and supported scaffolds available for use in various work environments and unique purposes.
For a complete understanding of the scaffolding safety requirements, enroll in our OSHA Scaffolding Safety Training online course developed to meet the criteria set out by OSHA's scaffolding standard 29 CFR Subpart L.
Type of Suspended Scaffolds
Here are some of the more popular types of suspended scaffolds used today.
Two-Point Adjustable Suspension Scaffold
The scaffold platform is suspended by two cables that are connected to hangers at both ends. The hangers are usually attached to a permanent structure such as a tall building, and the scaffold can be adjusted for different heights.
Single-Point Adjustable Suspension Scaffold
This scaffold is also known as the boatswain's chair. This scaffold uses only one cable connected to a hook that is attached from above to a strong structure. This scaffold can also be moved easily to reach different heights.
Catenary Scaffold
A catenary scaffold is supported by several horizontal, parallel, and vertical ropes that are attached to another structure at the top.
Float Scaffold
A float scaffold is also referred to as a ship scaffold. It is hung from above, using ropes of a fixed length. The braced platform is placed on two parallel bearers. This platform cannot be adjusted for different heights.
Interior Hung Scaffold
This scaffold is attached to the roof or ceiling of a building. An interior hung scaffold cannot be adjusted for height and is of a fixed-length.
Multi-level Scaffold
A multi-level adjustable scaffold can be either a two-point or multi-point scaffold. This scaffold has several platforms at different heights and is attached to an overhead structure.
Multi-Point Adjustable Scaffold
A multi-point adjustable scaffold is attached to many overhead ropes. It is adjustable for use at different heights.
Needle Beam Scaffold
This is a simple scaffold platform attached to needle beams by two overhead ropes. It is fixed on a permanent structural base.
Image Source: OSHA. (n.d). Scaffolding eTool. Suspended Scaffolds. Website. https://www.osha.gov/etools/scaffolding
Supported Scaffolds
Here are some types of conventional supported scaffolds used for different purposes.
The Frame or Fabricated Frame Scaffold
Frame scaffolds fabricated frame scaffolds are build using fabricated end frames. The integrity of the scaffold platform is due to the use of posts, horizontal supports, and other connecting elements. Fabricated frame scaffolds are usually built at one or two levels, but platforms can be added on for different heights. This is a popularly used scaffold as it is easy to use, can be used for different purposes, and is also cost-effective to build.
Ladder Jack Scaffold
This is a simple scaffold built using one platform which rests to brackets that are supported on ladders at either end. This is a low cost, easy to assemble scaffold; that can be moved easily. It is also best used with lightweight loads to carry out simple tasks.
Mast Climber Scaffold
A mast climber supported scaffold is mainly used when tasks must be done at great heights with a requirement to carry heavier loads to the top. This scaffold is built as a free-standing structure or can be attached intermittently using a beam to a permanent structure for better stability. The mast of the scaffold is constructed on a stationary base, while the platform is movable to reach different elevations. However, when used for tasks carried out at lower levels this scaffold may also be built on a mobile base.
Mobile Scaffold
This scaffold is built on wheels or casters and used when work tasks require constant movements; for example, when painting. The scaffold can be moved manually or propelled around. Adequate horizontal, vertical, and cross supports must be used to ensure the stability and strength of the scaffold to hold people, materials, and equipment.
Pump Jack Scaffold
A pump jack scaffold is a platform supported by moveable brackets on vertical poles. The mechanism used to move the scaffold up and down is similar to that of a vehicle jack – hence, the name! This scaffold is very economical to build and can be easily adjusted for different heights.
Tube and Coupler Scaffold
A tube and coupler scaffold is constructed by using tubing and coupling devices. It is a heavy-duty scaffold with several constructed levels to reach higher work levels. It also supports the carrying of heavy loads. While this scaffold is difficult to build due to the precise requirements, it is also a flexible type of scaffold that can be adapted for any work requirements.
Pole or Wood Pole Scaffold
This scaffold is made completely of wood. All parts from posts, poles, braces to bearers should be securely connected at fixed levels. This type of scaffold can rarely be reused, and not surprisingly, it is considered to be an outdated model and hardly used today.
Specialty Supported Scaffolds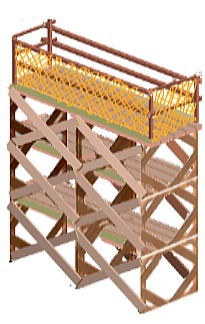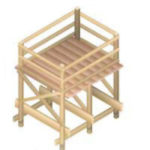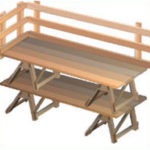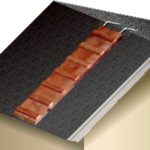 There are also other various types of supported scaffolds used for specific purposes, such as in very narrow spaces, larger areas, or on slopes. These are:
Plasterers', Decorators', and Large-Area Scaffolds
Bricklayers' Square Scaffolds
Horse Scaffolds
Form Scaffolds and Carpenters' Bracket Scaffolds
Roof Bracket Scaffolds
Outrigger Scaffolds
Window Jack Scaffolds
Crawling Boards (Chicken Ladders)
Step, Platform, and Trestle Ladder Scaffolds
Stilts
Refer to this link for more details on specialty scaffolds.
Image Source: OSHA. (n.d). Scaffolding eTool. Supported Scaffolds. Website. https://www.osha.gov/etools/scaffolding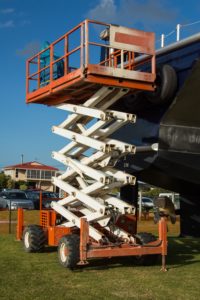 Scissor Lifts
Scissor lifts are a form of powered mobile scaffolds. It has one platform with guardrails fixed on cross beams attached to a motored base. Scissor lifts can be raised and lowered using the powered mechanism and can also be driven short distances to transport workers to different locations. It is a safe way for workers to reach heights. Scissor lifts are often used in warehousing operations, the construction industry, retail trade, and the entertainment industry.
Read more about scissor lifts
here
.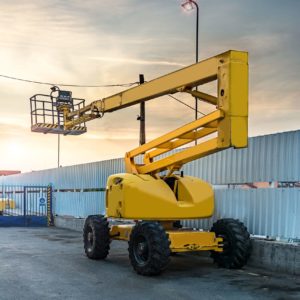 Aerial Lifts
An aerial lift is a platform that is mounted on a vehicle and used to elevate people, materials, and equipment to work at heights. The platform must be made of metal, fiberglass reinforced plastic, or any other strong materials. Aerial lifts can be either manually or mechanically operated, making them mobile and flexible for a variety of uses.
Read more about aerial lifts
here
.
Reference
OSHA. (n.d). Scaffolding eTool. Website. https://www.osha.gov/etools/scaffolding