HAZMAT TRANSPORTATION TRAINING REQUIREMENTS
---
An Overview of 49 CFR Parts 172-173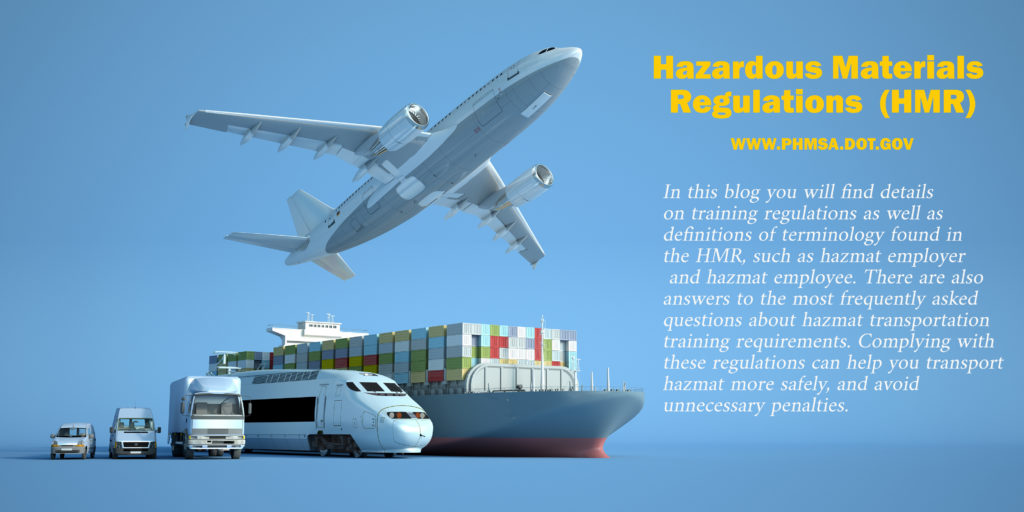 IT'S THE LAW
Training is the best means of preventing or reducing, hazardous materials (hazmat) incidents in transportation that are caused by human error.
The Federal hazardous materials transportation law (49 U.S.C. 5101, et seq.) is the statute pertaining to the transportation of hazmat in the United States, and requires the training of ALL hazmat employees.
The purpose of this training is to increase a hazmat employee's safety awareness and to be an essential element in reducing hazmat incidents. The Hazardous Materials Regulations (HMR) includes training requirements in several sections of Title 49 Code of Federal Regulations (CFR) as follows:
GENERAL §173.1
FUNCTION SPECIFIC §172.704
MODAL

Air §175.20
Vessel §176.13
Highway §177.800, 177.816
Receiving the required training enhances employee safety and security, and increases employee productivity and skills. Effective training also reduces incidents and accidents thereby reducing operating costs and losses from property damage, thus increasing profits.
HMR TRAINING REQUIREMENTS
Each hazmat employer must train and test their hazmat employees, certify their training, and develop and retain records of current training. Hazmat training must include, or be:
Accordingly, we offer a range of online safety training courses to fulfill the training requirements as stated in the U.S. DOT's Hazardous Materials Regulations (HMR) to support employers in their objective of protecting employees' health while satisfactorily completing their job tasks.
FREQUENCY OF TRAINING
Initial training of new hazmat employees, or an employee who changes job functions, must be completed within 90 days of employment or change in job function. A new employee may perform hazmat job functions before completing training provided the employee does so under the direct supervision of a properly trained and knowledgeable hazmat employee.
Recurrent training is required at least once every three years. The three-year period begins on the actual date of training. Relevant training received from a previous employer or source may be used to satisfy the requirements, provided a current record of training is obtained from the previous employer or other sources.
TRAINING RECORDS
Training records must be kept by the hazmat employer for each hazmat employee, and must include the following:
the hazmat employee's name;
the completion date of the most recent training;
training materials used (copy, description, or location);
the name and address of the hazmat trainer; and
certification that the hazmat employee has been trained and
Training records must be retained for each hazmat employee for three years from the date of the last training, and for 90 days after the employee leaves.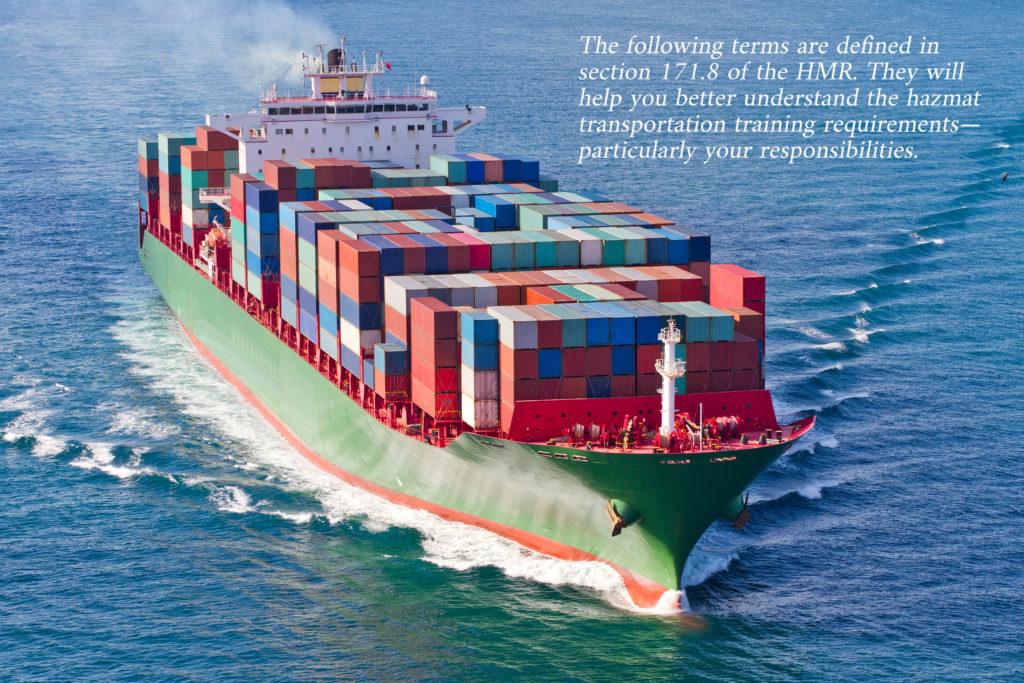 DEFINITIONS
Training – a systematic program (consistent approach, testing, and documentation) that ensures a hazmat employee has knowledge of hazmat and the HMR, and can perform assigned hazmat functions properly. See §172.700 through §172.704.
Hazmat employer – a person who uses one or more employees regarding:
transporting hazmat in commerce;
causing hazmat to be transported or shipped in commerce; or
designing, manufacturing, fabricating, inspecting, representing, marking, certifying, selling, offering reconditioning, testing, repairing, or modifying packaging as qualified for use in the transportation of hazmat.
The term "hazmat employer" also includes any department, agency, or instrumentality of the United States, a State, a political subdivision of a State, or Native American Indian tribe engaged in offering or transporting hazmat in commerce. This term includes a person who is self-employed, including an owner-operator of a motor vehicle that transports hazmat in commerce.
Hazmat employee – a person employed by a hazmat employer, or person who is self-employed, and who directly affects hazmat transportation safety including:
an owner-operator of a motor vehicle that transports hazmat;
a person who:

loads, unloads, or handles hazmat;
designs, manufactures, fabricates, inspects, tests, reconditions, repairs, modifies, marks, or otherwise represents packaging as qualified for use in the transportation of hazmat;
prepares hazmat for transportation;
is responsible for safety of transporting hazmat; or
operates a vehicle used to transport hazmat.
FREQUENTLY ASKED QUESTIONS
Question: Why is the DOT Hazmat Transportation Advanced General Awareness training course important?
Answer: According to the Unites States Department of Transportation (DOT) all hazmat shipments must comply with the U.S. DOT Hazardous Materials Regulations as set forth in Title 49 – Transportation. Hence, all hazmat employers and employees who prepare hazardous materials for shipment or engage in the actual commercial transportation of these materials must receive the relevant training.
---
Question: Who should enroll for the DOT Hazmat Transportation Advanced General Awareness online training course?
Answer: Employees who work for the following categories of employers must receive the requisite U.S. DOT hazmat training:
Common, contract, and private carriers who transport hazardous materials in commerce;
Shippers who offer hazardous materials in commerce for transport within states, between states, or internationally;
Persons who design, manufacture, inspect, maintain, recondition, repair, or test a package, container, or packaging component that is used for transportation of hazardous materials in commerce;
Persons who indicate by marking, labeling, or other means that a hazardous material being transported in commerce is present in a package;
Persons responsible for the safety of hazardous materials during transportation; and
Compliance officers who certify that all applicable requirements of the HMR are being met.
---
Question: Is there a need for DOT Hazmat Transportation Advanced General Awareness training when transporting small quantities of hazardous materials?
Answer: The DOT's Hazardous Materials Regulation (HMR) do not specify any exceptions to training requirements for shippers/carriers transporting limited or small quantities of hazardous materials. Hence, all personnel involved in transporting HazMat must be adequately trained, irrespective of the amount of hazardous materials being shipped.

---
Question: Do I receive a Wallet ID Card once I successfully complete this DOT Hazmat Transportation Advanced General Awareness training course?
Answer: To receive a plastic wallet ID card, upload a passport style and size photograph to your HAZWOPER OSHA Training account. Alternately, email the photograph to info@hazwoper-osha.com
You will receive the plastic wallet card via U.S. mail within 2-3 weeks of course completion.
---
Question: What happens when an employee is not properly trained and what type of fines would be involved?
Answer: Violations of any hazmat regulations including training may be subject to a civil penalty of up to $77,114 for each violation. If the violation results in death, serious illness, or severe injury to any person or substantial destruction of property, the maximum civil penalty is $179,933. The minimum civil penalty amount for a training violation is $463. Criminal violations may result in fines, imprisonment, or both. (See 49 CFR §107.329 and §107.333.)
---
Question:  An office secretary types the required hazmat description on a shipping paper at the direction of another, item by item. Is the secretary considered to be a hazmat employee requiring training?
Answer: Yes. Any person who performs a function subject to the HMR must be trained, except for special circumstances addressed by §172.704(e).
---
Question: Do hazmat training regulations apply to employees working with materials that are consumer commodities?
Answer: Yes. Consumer commodities are listed as ORM-D in the hazardous materials table §172.101.
---
Question: Our hazmat employees have training to ship materials by ground. Are they authorized to ship packages by air or water, also?
Answer:   No. Hazmat employees that usually prepare shipments for transportation via highway may not have sufficient training to ship hazmat via other modes of transportation. Trained hazmat employees should be generally aware of the requirements for shipping hazmat via all modes of transportation, but may need additional function-specific training (i.e., modal-specific training) in order to comply with the HMR.
---
Question: Do the hazmat training regulations apply to foreign flag vessels  carrying hazmat?
Answer:  Yes. The regulations apply to each non-bulk domestic and foreign vessel while operating in navigable waters of the United States.
---
Question: Do the hazmat training regulations apply to hazmat employers and/or employees who operate a bulk vessel transporting hazmat?
Answer: No. Except for transportation in bulk packagings, the bulk carriage of hazmat by water is governed by 46 CFR Chapter I, Subchapters D, I, N, and O. See 49 CFR §176.5(d).