Hazmat Online Training: Protecting Employees in the Workplace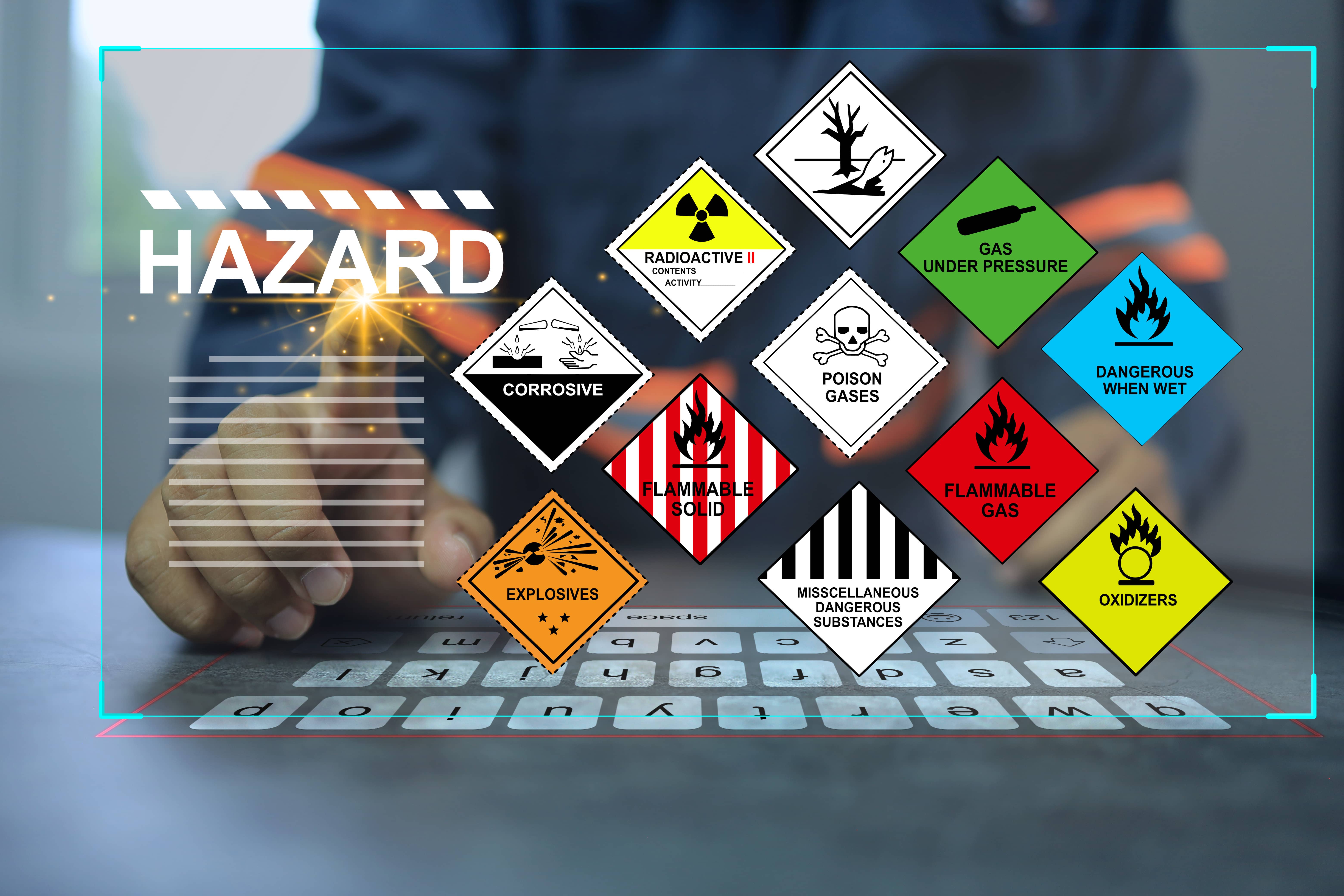 Hazardous materials (hazmat) or toxic materials are substances that can cause harm to human health or the environment when they are released or encounter living organisms. Some examples of hazmat are asbestos, lead, mercury, pesticides, radioactive materials, and volatile organic compounds (VOCs). Exposure to hazmat can occur in various settings, such as industrial plants, construction sites, laboratories, farms, hospitals, and waste disposal facilities. Depending on the type, amount, and duration of exposure, hazmat can be detrimental to human health causing acute or chronic illnesses, such as irritation, inflammation, allergic reactions, poisoning, cancer, or birth defects.
Hazmat can also negatively impact the environment and contaminate natural resources. Toxic substance releases can pollute natural water sources and the air. If accidental hazmat spills occur, the environment can be harmed such as causing natural habitats to be damaged and contaminating soil and other natural resources. Such impacts will have long-term cascading effects on animal and plant life as well as human health.
To counteract possible hazmat incidents, many government agencies have been formed to put into effect regulations and other safety practices to be followed by organizations and employees. In the United States, the Environmental Protection Agency (EPA) is responsible for matters related to environmental protection. The Occupational Safety and Health Administration (OSHA) oversees the safety and health of employees in the workplace, and the Department of Transportation (DOT) has in place Hazardous Materials Regulations (HMR) to govern the transportation of hazmat by highway, rail, road, and water.
Hazmat Online Training
The safety standards and regulations by these federal agencies must be adhered to by both employers and employees. Thus, to familiarize employers and employees with relevant safety protocols, we offer a range of hazmat online training courses which explain regulatory requirements that must be complied with. In addition, we also provide hazmat training as virtual instructor-led courses and in-person, where one of our OSHA-certified instructors visits the organization to train employees.
Benefits of Hazmat Online Training
Hazmat online training offers many benefits over traditional classroom-based instruction training for both employers and employees. These benefits include:
Convenience: Hazmat online training allows employees to access the course material from anywhere at any time with an internet connection. Additionally, the training course offered by us is compatible with mobile phones and tablets, and our LMS lets the student start and stop as they like with the training restarting from the point lesson at which they stopped.
Flexibility: Hazmat online training offers flexibility in terms of scheduling. Employees can choose the time that suits them best, making it easier to balance training with work commitments and other responsibilities.
Cost-effective: Hazmat online training is more cost-effective than in-person or virtual training as it eliminates the need for physical classrooms, instructors, and printed materials. Thus, the overall training costs for employers are reduced.
Self-paced Learning: By enrolling in hazmat online training, learners can complete the training at their own pace. Learners can go through the course material at their own speed. This is particularly beneficial for individuals who need more time to grasp complex concepts. For students who can quickly absorb the information, our LMS offered an increased speed option which will enable them to finish the training much faster.
Updated Content: The online hazmat training courses offered by us are renewed and updated regularly to ensure all changes to regulations are captured and the course is up to date. Therefore, employers and employees have access to the most current and relevant information related to OSHA and HAZWOPER regulations and other regulations such as the DOT HMR and the EPA's RCRA requirements.
Interactive Learning: Our online hazmat training courses use multimedia elements, such as animated videos, quizzes, diagrams, and other learning activities to engage learners actively. It is proven that interactive learning improves knowledge retention and a better understanding of the material.
Record Keeping: Our online training platform has built-in record-keeping features that track learner progress and completion. The system also stores all course completion certificates. Our LMS is suitable for use by organizations as it is designed to maintain corporate accounts where the training manager can review all employee training records in one place. This makes it easier for organizations to manage compliance and regulatory requirements.
Timely Training: As online hazmat safety training is required to be updated annually as per regulations, our system is designed to send out email reminders when an employee requires to have their safety training certificate renewed. This ensures that all hazmat training is done in a timely fashion ensuring employers meet all compliance requirements.
Consistent Training: Hazmat online training courses ensure that all learners receive the same information and training experience. Consistency is crucial when dealing with hazardous materials to minimize the risk of accidents or incidents.
Review and Reference: Our system allows participants to revisit course materials and resources as needed for future reference or to refresh their knowledge for one year from the time of completing the hazmat online training course.
Wide Range of Courses: We offer a wide range of hazmat online training courses, catering to different roles and levels of expertise. This allows employers to choose training courses that align with the specific needs and responsibilities of their organization and employees.
Reduced Environmental Impact: At the start, it was mentioned how toxic materials can negatively impact the environment. By opting for online training, all employers and employees can contribute towards environmental protection. This is because online hazmat training will use less need for printed materials and physical infrastructure, reducing the environmental impact associated with traditional training methods.
The above points put into context the benefits of hazmat online safety training while ensuring employees receive the necessary knowledge and skills to handle hazardous materials safely and responsibly at the workplace.
Remember! It is the employer's responsibility to ensure employees receive adequate safety training. By providing appropriate hazmat online training employers not only fulfill regulatory requirements but ensure worker safety and improve their organizational standing within the society.