Our Instructors
At HAZWOPER OSHA we strive to "create impactful training solutions for organizations through our custom e-learning approach. We just don't want to create good learning programs; we want to deliver programs of lasting value."
To this end, we believe that the role of the instructor in an online scenario is not only pivotal; but is multi-layered. In our multi-media lives, a trainer needs more than just good speaking skills or technical know-how but a trainer should have knowledge, confidence, and should be able to inspire, comfort, entertain, counsel, and even push back.
With this mindset, at HAZWOPER OSHA, we employ highly qualified instructors with extensive training and experience in occupational safety and health. All of our instructors are certified to teach a number of different subjects in the field of Environmental Health and Safety (EH&S), reinforced by years of experience, allowing them to function as subject matter experts in their respective fields.  Our trainers also maintain contact with their professional areas of expertise, which is essential to improving our existing courseware  and it also aides in the development of new ones. This point of contact with the real world also ensures that our instructors remain mindful of any changes, upgrades or new additions to federal laws and regulations.
All of our courses contain up to date information, and are tailored to real-world situations that students can relate to on-the-job.
Rest assured that the training you receive from HAZWOPER OSHA provides not only a high-quality learning experience, but a lasting one.
We employ three onsite full-time workplace safety and health instructors, as well as additional instructors as needed. All of our instructors have extensive training and experience in workplace safety and health training. If you need help with the course content or have a questions for our instructors, call us toll free (1-866-429-6742) to schedule an appointment or email us at instructor@hazwoper-osha.com.
Our Lead Instructor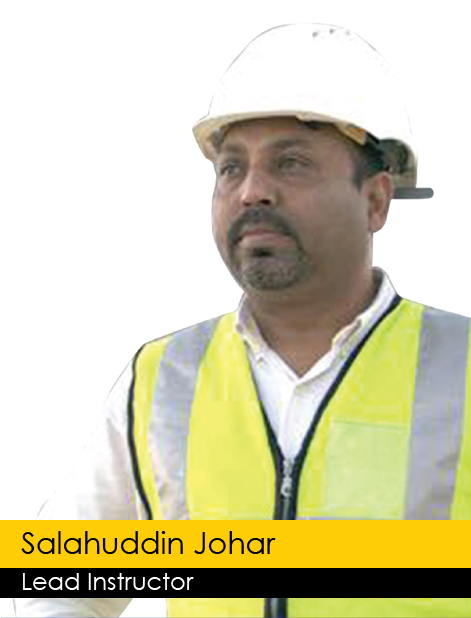 Salahuddin Johar
"I am NOT just another trainer or consultant; I am here to make a DIFFERENCE."  This is Mr. Salahuddin Johar's philosophy, the lead instructor at HAZWOPER OSHA. He is an advocate for all safety and compliance programs company wide. Mr. Johar holds a BS. in Biological Sciences. He is an OSHA Authorized Outreach Trainer for the General Industry, and is a certified H2S and Scaffold Training Instructor. He is also a Certified Fire Protection Specialist (CFPS) with extensive training in the NFPA 70E and NFPA 1081 Standards.
As a trainer and consultant, Mr. Johar has over 20 years of experience in occupational safety and health, and has worked with a number of leading companies around the globe, including Unilever and Procter & Gamble. His areas of expertise include risk assessment, training and development, OSHA laws and regulations for the general industry and construction, fire protection, and scaffold training. With the right mix of experience, qualifications, and skills, Mr. Johar has contributed to the training and development of employees not only in the corporate sector, but also in the industrial sector, including construction, agriculture, and pharmaceutical, to name a few.